Prefabricated Modular Wheelchair Ramps

Our modular wheelchair ramps are pre-coated according to your preference, the modules are individually packaged, and installation is made convenient and quick with our easy-to-follow installation. Installation, removal, or reinstalling only takes less than a day for a whole kit.
Try our custom wheelchair ramp solution by designing your own ramp based on your specification.
Design
Frame
Flooring
Handrail
Floor Level
Request Quote
We have received your quote request
We strive to provide outstanding client service to all our clients. That is why we appreciate your partnership and we're doing our best to get back to you in less than 24 hours with a quote.
CAD designs will be delivered for your review along with our response and we'll be waiting for your reply to ensure everything is up to your specs and requirements.
Thank you for your trust!
Wheelchair Ramps for Residential and Commercial
Wheelchair ramps are now a necessity to almost any Australian property. All commercial establishments, & industrial buildings are required to have wheelchair ramps; homes with wheelchair access are also becoming the more popular preference. Our wheelchair ramps are safe and pass Australian government regulations.
Adapta Ramps has 20+ years of expertise in providing equal access to everyone. With the elderly, disabled, & handicapped, in mind, we are committed to providing businesses, homes, and health institutions with wheelchair access solutions that are safe & convenient.
Design your own custom wheelchair ramp solutions and our Ramp Specialist will get in touch with you.
END-TO-END SOLUTIONS
AS1428, DDA, BCA assessed risk approved
Life-cycle support and maintenance services
Extended warranty
Fully compliant with AU regulations regarding custom specifications, materials, fabrication, QA, tailored logistics, and delivery
Our solutions cater to any access needs
Wheelchair ramps for the handicapped & elderly
Elevated walkways
School and hospital access
Temporary building or construction access
Delivery access
Directional thoroughfare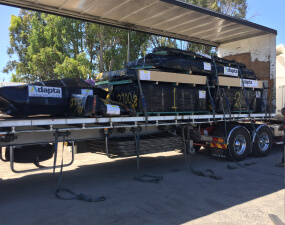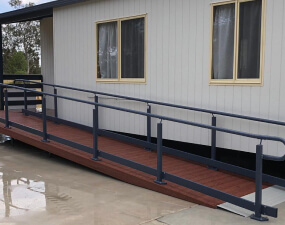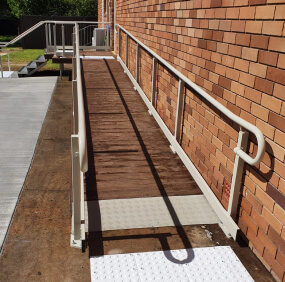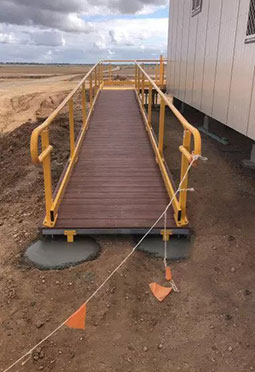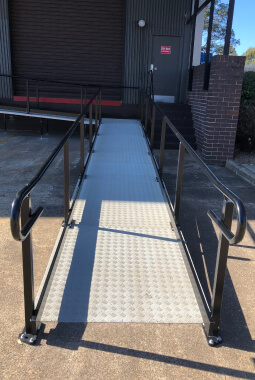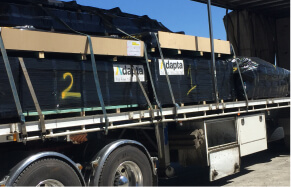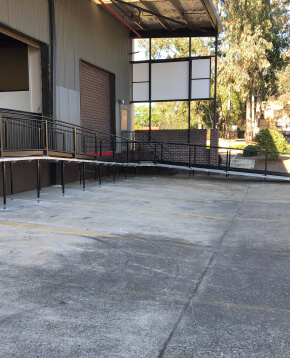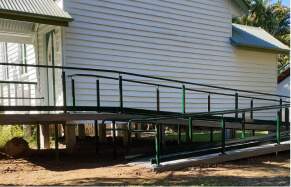 Frequently Asked Questions
What is the standard for Wheelchair Ramps in Australia?
A wheelchair ramp, intended specifically for wheelchair use, with a length greater than 1900mm, should have a maximum gradient of 1:20.
What are the required dimensions of a wheelchair ramp in Australia?
Threshold ramps or those that cross doorways are required to have a maximum rise of 35mm, and it's length should not exceed 280mm. Wheelchair access ramps, on the other hand, should be at least 1000mm wide for an ambulant person. Ideally, its surface should have a width of about 1500mm to allow 2 persons to pass each other easily. Having a 1800mm wide surface allows a person in a wheelchair to conveniently turn 180°.
What is the Australian Standard for ramp handrails?
Australian Standards require handrails to be constructed and designed in a certain way to ensure the safety of users. For instance, the exposed sides of walkways, platforms, and landings that exceed a height of 300 millimetres should be equipped with handrails. As required by the AS 1428.1-2009 guideline, these safety features should be affixed to support posts.
In addition, the height of the handrail from the surface of a walkway or an access ramp should be between 900 to 1,100 millimetres. The height of the handrail's top surface should be consistent throughout the entire ramp, stairway, or walkway.
If the ramp is located above an area that people have access to, then the edges of its walkway should have a toeboard. The height of this added safety feature should not exceed 100 millimetres.
If the handrail is composed of a top and a mid-rail, the gap between these two objects should not exceed 450 millimetres. As for the mid or intermediate rail, its distance from the surface shouldn't go beyond 560 millimetres if the ramp doesn't have a toeboard.
What is the maximum gradient slope an access ramp can have?
According to Design for Mobility, the overall slope an access ramp is allowed to have depends on its design, purpose, and function. A kerb ramp, for instance, allows people in wheelchairs to easily transition from a footpath to a roadway. This type of ramp's gradient must not go beyond 1:8.
On the other hand, a step ramp helps people go over a single step. This ramp's length should not go beyond 1,900 millimetres and not exceed a slope of 1:10. Threshold ramps are those that help people in mobility aids or those pushing strollers to access a doorway. These ramps, which typically cover a distance less than 280 millimetres, usually have maximum gradients of 1:8.
As for access ramps, these features should be slip-resistant if they are steeper than 1:20 but shallower than 1:14.
If the ramp's total length is over 1,900 millimetres, then its maximum slope must be 1:14.
How much weight should a ramp carry?
The total weight capacity of ramps depends on their design and purpose. Generally, access ramps or those that are designed to help people cross uneven surfaces through an inclined plane should be sturdy enough to support heavy weights. Ideally, access ramps should have a weight capacity of up to 500 kilograms, which is more than enough to support the weight of an average person and a mobility aid.
What is a comfortable slope to walk on?
Since access ramps are designed to help people reach places they need to visit, they should be comfortable to use and not be too steep. In addition to following the guidelines regarding the proper gradients of the ramp, long access ramps should also have landings on their surface. These features break up the inclined sections of the ramp to make it easier and safer for people to use.
The frequency of these landings depends on the overall slope of the ramp. For a ramp that has a gradient of 1:14, there should be a landing every 9 metres. On the other hand, ramps with a 1:20 slope should have landings every 15 metres.